Need a new toilet?
Does your toilet need two to three  flushes to get all the waste down?
Is it making noise all night long keeping you awake?
Does your toilet frequently stop up?
Do you see water leaking into toilet bowl?
Are there ugly stains and or mold at the bottom of the toilet?
Can you rock your toilet back and forth?
We offer variety of options for those problems. We will repair it but if the repair does not hold up then replacement may be necessary. Toilets can cause a lot more problems than you can imagine and your floor can rot out if the toilet repair is not done promptly.
If a toilet is giving you trouble it is easy to conclude that it needs to be replaced.
While installing a new toilet can definitely be the best option for a troublesome fixture it is not necessarily the only solution. When a few repairs will be enough to solve the problem there is no reason to spend the extra money to buy a new toilet. Service Pros Plumbers can help you diagnose the problem and give you the best possible solution. The key is knowing when to replace a toilet and when to repair it instead.
Toilets are flushed an average of 5 times a day by each person in the home. By installing a new 1.28 gallon flush toilet, a household can save 2,920 gallons of water over a 1.6 gallon flush toilet up to 9,125 gallons of water over a 3.5 gallon flush toilet per person per year.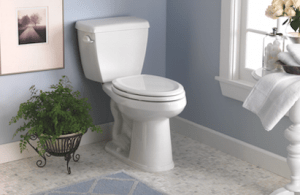 Always remember all toilets are not created equally. Water surface and flushing are the most important things to consider. If a toilet does not have adequate water surface, it will not wash out clean. If you install a toilet that you have to consistently flush two or three times to get the waste out of the bowl you get aggravated and you are not saving any water. Toilets last for years, We advise you to not cut a corner to try and save a little money by installing an inferior toilet.  We can sell you most brands of toilets you might want, however we recommend the Gerber Avalanche.
Watch a video on toilets we recommend.
 Toilet Repairs:
When Ricky Eade Plumbing Company makes a repair we use quality made repair parts not the cheapest parts we can buy. Our professional plumbers want your repaired toilet to operate trouble free for as long as possible. We go by our experience and research to decide what parts meet our standards. We use the same parts in your toilets that we use in our own toilets at our homes.
Need a new toilet or repairs call

  806-797-9510