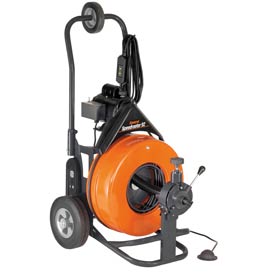 When it comes to sewer drain cleaning call the Professionals at Ricky Eade Plumbing Company. We specialize in fast, friendly service using the latest technology and products to get the job done right. We have top of the line, well maintained drain cleaning equipment ranging from large main line cable machines that handle those tough roots in main lines to mid size cable machines to clear stoppages in kitchen drains, washing machine drains or a clogged bathroom drain. We also have the small machines it takes to unstop a shower drain, tub drain or a lavatory drain. If we need something because the cable can't make that tight turn, we also have kinetic water rams that work off of pressure. We also have the ability using our sewer jetter to clean the build-up out most sewer lines.
Need Drain Cleaning, repairs or replacement? Call
 806-797-9510
Drain leaks in a wall as pictured below.
Drain leaks in a wall can cause wood floors to buckle. Mold problems can be created in walls, under cabinets and others places water can reach. The water can ruin floor tile, vinyl flooring, carpet or damage wood inside the walls of a home. Problems like these need to be repaired ASAP.
Main sewer line repair or replacement:
If the line can't be unstopped and must be repaired or replaced Ricky Eade Plumbing Company can handle that job as well. Trenching, installation of new line with a clean out and covering the ditch after the work is done. All handled in a professional manner.