Cadet PRO Tall Toilet
The Cadet PRO Right Height toilet from American Standard is an ADA compliant trade exclusive toilet that sits at a comfortable and accessible 16-1/2" tall. The Cadet PRO features the Cadet Flushing System, which performs with excellence – at a great value. An innovative EverClean surface comes standard with the Cadet PRO and inhibits the growth of bacteria, mold, and mildew that case odors and stains – keeping your toilet cleaner, longer. A flow rate of 1.28 gallons per flush uses 20% less water than a standard 1.6 gpf toilet and without sacrificing performance, ensures a powerful flush and superior bowl cleaning.

Features
Cadet® Flushing System
Durable, long-lasting vitreous china
Meets EPA WaterSense® criteria
ADA Compliant
Trade exclusive tank
PowerWash® rim scrubs bowl with each flush
Robust metal trip lever & metal shank fill valve
Includes EZ-Install Tools w/color match bowl caps
EverClean® surface included
5 year warranty

Performance
1,000g MaP Score at 1.28gpf – Great flush performance moves 2.2 lbs of waste in one flush – the highest score possible!
High Efficiency Toilet (HET)
1.28 gallons per flush (4.8 Lpf/1.28 gpf) utilizes 20% less water than a standard 1.6 gpf toilet
Specs
Oversized 3″ flush valve provides a powerful flush
Fully-glazed 2-1/8″ trapway helps to prevent clogs
16-1/2″ rim height for ADA compliant, handicap accessible applications
Generous 9″ x 8″ water surface area helps to keep the bowl clean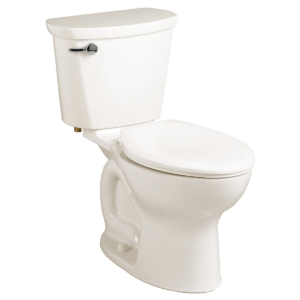 Save water with the new American Standard 1.28 gallon flush toilet.